The WordPress Dashboard is your one-stop go-to for all the important elements of your website.
Providing a clear overview of everything related to managing your website, the WordPress Dashboard isn't necessarily difficult to navigate, but if you're new to WordPress then we're here to help you get familiar with this handy feature.
While all the functions are included on the left-hand menu, users can access key widgets from the WordPress Dashboard itself. The number of widgets visible will depend on the user's access level, but there are five widgets visible by default.
Let's have a look at these in more detail!
Site Health Status
This is a very important little widget box. It will let you know how your website is faring. If it needs attention, you may find the site health is noted as Red or Yellow. Whatever the reason for this – whether you need to update themes or plugins, or have a more serious security issue that needs to be addressed – this is the place you go to on the WordPress Dashboard to make sure your website is healthy (green) and working for you.
At a Glance
Here is your website snapshot, telling you how many pages, posts, and comments your website has. It also tells you which version of WordPress you're running and any other handy bits of info.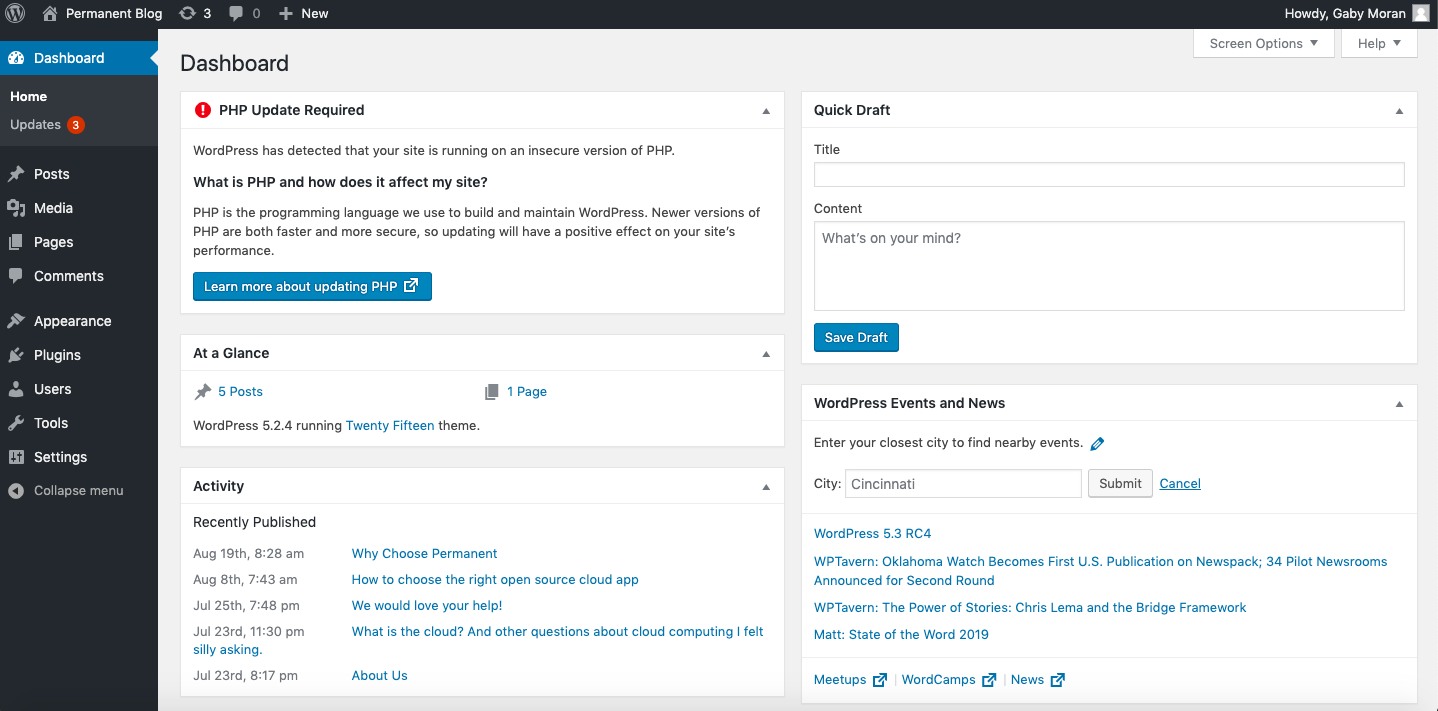 Activity
Your recent activity info is summarised with this widget. Keep on top of scheduled and published posts and watch latest comments from site visitors and users. It's handy to know whether your recent scheduled posts have gone live on the website without having to visit the Posts section.
Quick Draft
Got a great idea for a blog, but not ready to arrange layout or publish it yet? This Quick Draft widget is like your Post notepad, perfect for jotting down your post ideas and drafting content in a flash. The more people use this widget, the more they tend to love it!
WordPress Events and News
Check out this widget for all the WordPress news and info. This section connects you to the vast WordPress community, where you can access resources and groups. Very handy for those who need a bit of support from those with more experience and knowledge.
Do you still want to know more about WordPress and websites? Check out the client resources section of the Web Marketing Angels site or get in touch with us to have a chat about your own website.