Furniture Complaints
Furniture items are some of the biggest purchases Australians make, which is why a website like Furniture Complaints is an absolute necessity.
Decisions made by consumers are not only driven by function and practicality, but also by style preferences and emotional connection.  In an industry where quality can vary greatly, Furniture Complaints was created to support consumers who don't receive goods that quite up to standard!
Web Marketing Angels jumped at the opportunity to design and build the website for Furniture Complaints, Australia's first consumer complaint-handling service for unsafe, faulty or not fit-for-purpose furnishing products.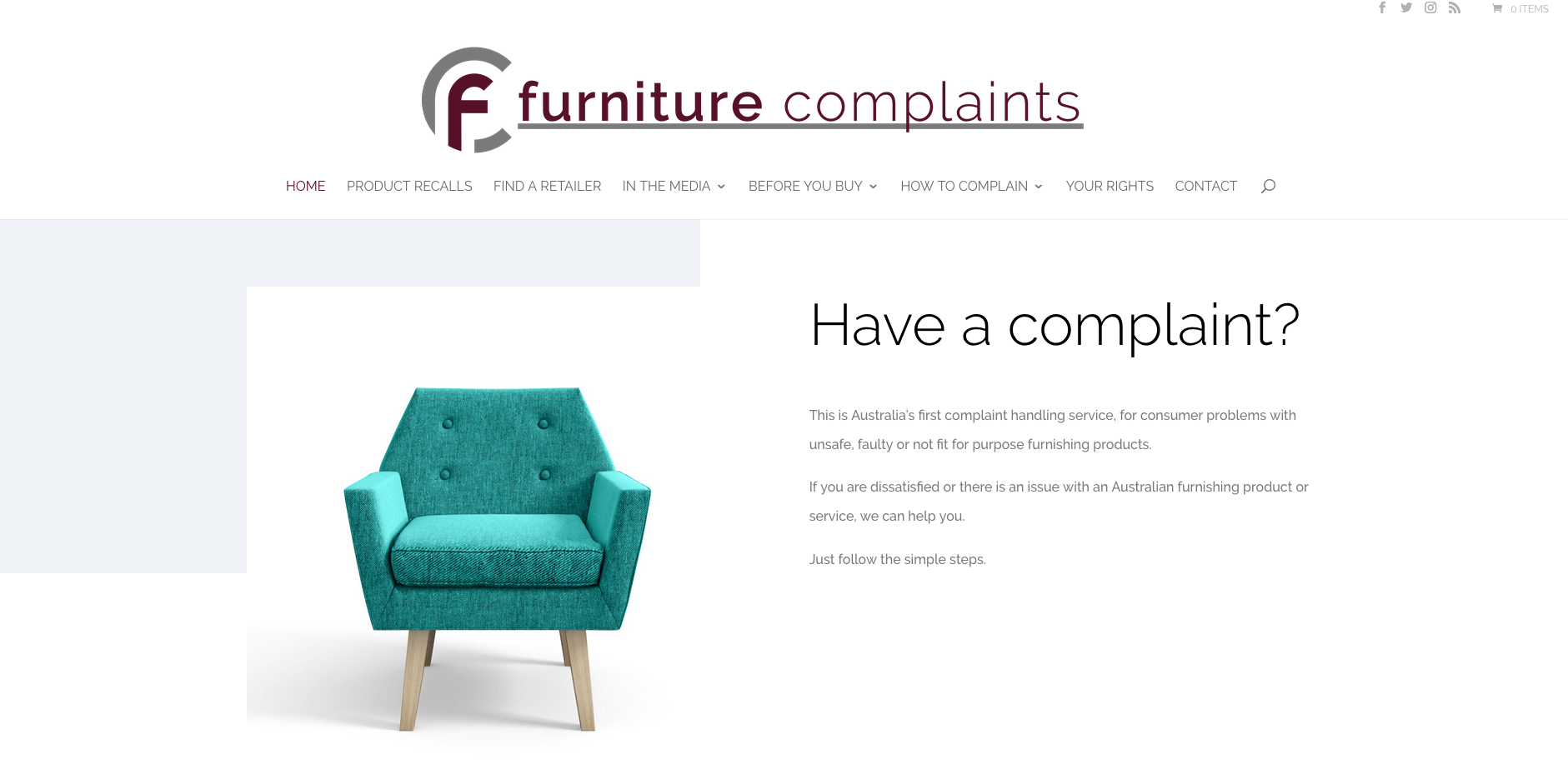 This brilliant service deals with the complaint-handling process from two perspectives.  The first is a proactive approach –  listing Product Recalls, providing a detailed FAQ page and informing consumers of their rights.  There is also a news section, as well as a page listing recommended furniture retailers.
For those who have already purchased a furniture item that doesn't tick all the boxes or is posing a safety risk, Furniture Complaints also provides support for consumers needing to make a complaint against a retailer or manufacturer.
The How to Complain section of the website details a 3-step process for registering and escalating complaints.  Furniture purchases in Australia come with an automatic guarantee under Australian Consumer Law (there are some exceptions, which are covered in detail in further documentation on the website).
Connected with this process is an online store, where consumers can purchase letter templates and pay registration fees to lodge their furniture complaints.
Website content was deliberately structured and presented in a way that makes it clear for all website visitors.  In order to keep the simple and effective theme consistent across the site, the colour palette and design were also chosen to create a clean and easy-to-navigate style.
The WMA team is always keen to work with organisations that provide important services for Australians, especially when those services protect and empower individuals.
For more information, check out our wide range of services.  From web design and hosting to digital marketing and video production, Web Marketing Angels is your one-stop-shop for digital services.