Here at Web Marketing Angels, not only do our Angels successfully execute and deploy anything and everything to with the digital space, but we also pride ourselves on meticulously working behind the scenes of major events!
Event Promotion and Social Media Marketing strategies are key factors that must be taken into consideration at any large expo or event.
It was with great pleasure that our Angel flock took the lead of Event Promotion and Social Media Marketing for the Melbourne Bridal and Honeymoon Expo, held on the 17th of January!
The Melbourne Bridal and Honeymoon was certainly in full swing on Sunday the 17th!
With over 200 wedding professionals who attended the bridal expo, we are absolutely sure that brides left inspired, informed and excited about planning their special day!
While doors were opened at 9am, brides, grooms and their friends patiently started lining up at 8:00am under the beautiful Bridal Expo entrance way, designed by our team at Web Marketing Angels.
Bridal Expo entrance way, designed by Web Marketing Angels.
The first 500 brides were gifted with an exclusive Bridal Expo Pamper Bag valued over $150. The bridal pamper bag included lots of gorgeous goodies such as make – up, hand creams and much more! 100 groom attendees were also gifted with an Exclusive Bridal Expo Grooms Pamper bag!
Bridal Pamper Packages.
With the early morning line almost extending outside of the Melbourne Exhibition, a sense of pure excitement was in the air from both the attendees,  exclusive exhibitors and of course our elite team of Web Marketing Angels!
Bridal Expos wanted to share the Moët love by giving 10 lucky brides a chance to take home a bottle of intensely smooth and refined Moet & Chandon, and that's exactly what they did! The first winner of the champagne giveaway was before the doors opened, in conjunction with the $100 Myer gift vouchers. Through out the day brides and grooms were gifted at random, congrats to all the winners!
First winner of the $100 gift voucher.
First winner of the champagne giveaway.
At 9am sharp guests were ushered inside room 6 of the Melbourne Convention and Exhibition Centre and boy was that an amazing moment! Crowds of people were heading of in every which direction to head on over to the stalls of their choice. The day started of exceptionally well, with so much to see and to do, brides and grooms really did have a great opportunity to plan their big day in one day!
Through careful deployment of a three month Marketing Event Promotion Plan, it was without a doubt an amazing moment looking down from the heavens (upstairs area) and viewing the fruits of our labor! Look at all those people!!!
The Exclusive Diamond Showcase was definitely a sight for sore eyes. If you missed out on this bridal expo, we genuinely do feel bad for you as this spectacular showcase was one in a million! With an amazing floral arrangement and chandelier showpiece from So You Event Designs, a stunning diamond dress from Wendy Makin, a beautiful diamond encrusted cake by Nikos cakes, shoes by Bridal Expos and who can forget the pristine 1.01 carat, $15,000 diamond! Oh wow that diamond was glistening from every angle! It's no wonder our Diamond Showcase was guarded every minute of the day! It must be mentioned that the team at Web Marketing Angels designed the fabulous Diamond Shoe showpiece as well as the miniature diamond labelled easels.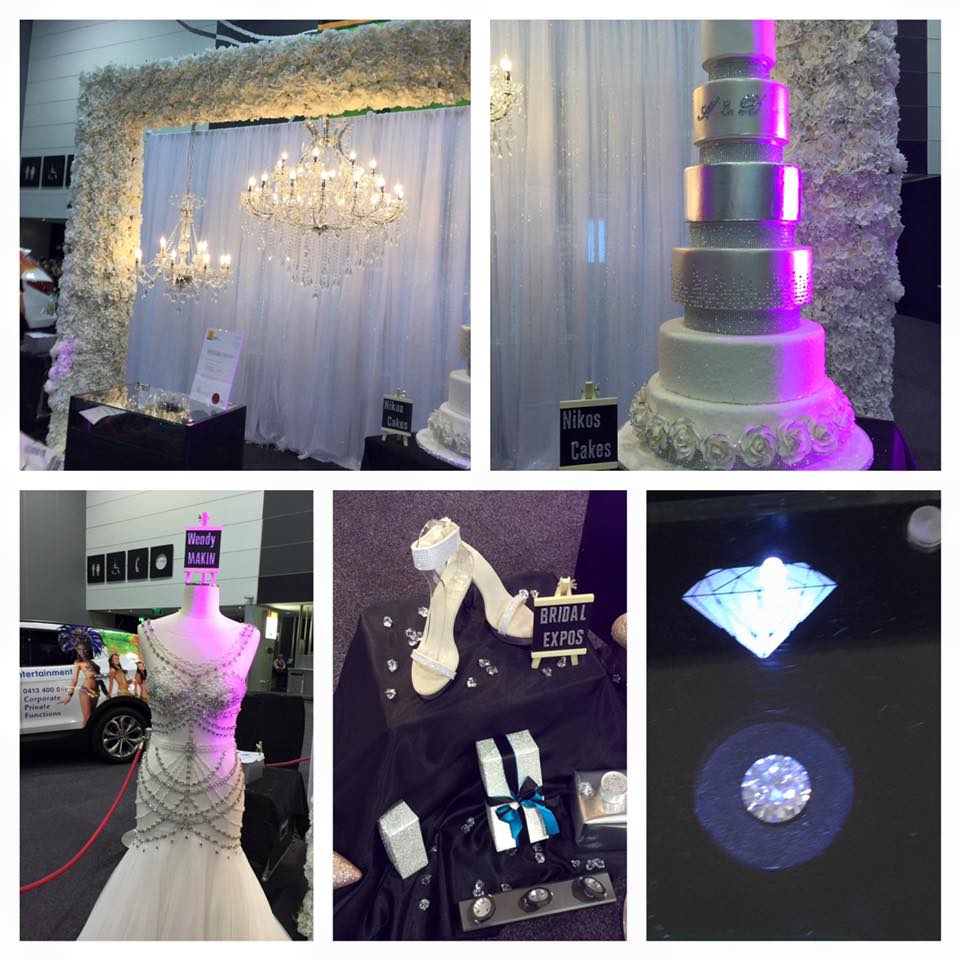 Williams Flowers surely did an amazing job creating a beautiful luscious flower wall. With the use of silk and fresh flowers to create the 2m by 2m flower with a diamond display in the middle. This flower wall quite literally took countless hours to develop and we'd like to take the opportunity to recognize their hard efforts keeping the fresh flowers fresh during the weeks' heat!
Tamarua Beauty Academy were hard at work at the expo! Giving out free make up and hair trials to all our gorgeous Brides-to-be. If you were lucky enough to have had the chance to use this opportunity, it should be said that the owner and lead makeup extraordinaire Maggie Tamarua has not only won the ABIA- Vic Makeup artist two years running but also has created the flawless makeup for stars on the red carpet at The Logies and The Brownlow Awards! Our Angel flock were so lucky to have had our make up done by the talented professionals at Tamarua Beauty Academy! Wow wow wow they do such an amazing job! Big thank you to the staff for giving us some "Angel Sheek" for the day!!
Tamarua Beauty Academy working their magic on some gorgeous brides.
The booty shaking dancers from Soul Brazil put on an amazing performance prior to the fashion parade. Their costumes were absolutely breathtaking and the same can be said about their incredible choreography. The music combined with the soul shaking dance moves gave everyone in the auditorium a taste of Brazil!!!
The Spectacular Fashion Parade was exactly that, SPECTACULAR! Showcasing only the best of what the Australian Bridal industry has to offer. Leading bridal retailers from all corners of Melbourne attended, and made this remarkable expo ideal for all brides and grooms planning their perfect wedding day.
The first parade started at 11am and showcased only the latest looks in Bridal Fashion live on the exclusive Bridal Expos Runway. What a great opportunity it was for brides to be to come along and be inspired by all the incredible gown designs from designers across Melbourne. The second parade took place at 1pm and was equally as exhilarating as the first!
Con from Icon Photography could be seen through out the day capturing some amazing shots. Being one of Melbourne's photographic masterminds, we couldn't think of anyone one better to collate and capture the days events. If you are looking for a photographer, head on over to Icon Photography. Don't think, just book him. You will not be disappointed! The team at Icon Photography were so generous for this expo, giving away a $10,000 package to one lucky couple! "Lucky" might be an understatement.
On completion of the Spectacular Fashion Parade, the winners of the major prize giveaways were announced! Unfortunately, being such a long day, some of these lucky winners had left the expo! All is well though, the winners were all called and notified by phone and it's safe to say they were extremely happy!
Another one of our fantastic clients, Enrik Limousines attended the bridal expo and could be seen at the very beginning on the left hand side. Showcasing one of his many incredible limousines, The Dark Angel. Any bride and Groom would have the time of their life being chauffeured in this luxurious limo on their special day! Enrik also gave away a 5 hour limo ride valued over $1500!
Maison Melbourne had a gorgeously presented stall with the glimmer of fairy lights behind a white chiffon backdrop! Brides and grooms, were able to have a sit down with the friendly staff and have a one on one chat about the needs and requirements of there wedding venue. Having such an amazing venue for hire we truly do encourage any one looking for a venue to go and have a look at their stunning ballroom! We can absolutely guarantee when you view the ballroom you will want to host your event at Maison without question!
JC Jags were another of Web Marketing Angels clients to showcase their luxurious white classic jag at the bridal expo. Their range of jags would definitely suit any wedding style and would look absolutely divine in your wedding photos!
The team at Alex Pavlou Photography were in attendance of this major expo with all smiles! Showcasing some of their amazing shots in their beautifully designed stall. Being one of Melbourne's leading photographers, Alex and his team of professionals have an amazing ability to inject their own particular enthusiasm into each celebration and they are exceptionally dedicated to providing an immaculate service.
"Take a stretch on the Wild Side" GT Limo Hire were in full swing at the bridal expo, showcasing one of their spectacular limousines! Any bride would absolutely love to be chauffeured in one of their outstanding and immaculately kept limousines on their wedding day!
The lovely staff at Harishis Bridal Palace were able to take some time out for Web Marketing Angels and do some gorgeous henna designs on our Angels! #Spoilt!
All in all, The Melbourne Bridal and Honeymoon Expo was a complete success! It was a fun filled day for everyone. All of the brides and grooms to-be had an amazing opportunity to attain incredible advice from our specialist wedding exhibitors. A vast amount of brides and grooms were able to sort out a lot of their wedding preparations as well which is fantastic!
Our team over here at Web Marketing Angels couldn't be happier with the end result of the bridal expo! If you are looking for Event Promotion, Marketing Strategies or Social Media Optimization don't feel shy pick up the phone or drop us a line! We'd be happy to help with your next big event!