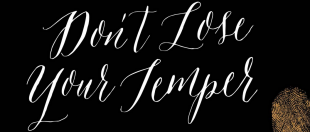 KEEP CALM AND CAKE ON WITH DON'T LOSE YOUR TEMPER
Are you looking for fine cakes, pastries and chocolates to add sophistication to your business or event? Then check out the Don't Lose Your Temper website, created by Web Marketing Angels.
Don't Lose Your Temper is a unique business with an equally unique name – the name referencing the art of tempering chocolate. According to their website, tempering chocolate involves the careful agitation and precise temperature control of cocoa butter to align the chocolate's fats for that shiny and smooth bite everyone loves. They offer a variety of desserts and sweets—cakes, slices, eclairs, tarts, mousses and even healthy sweets (e.g. gluten, dairy or sugar free).
Don't Lose Your Temper's products are available in their cafés and retail spaces, and for wholesalers. Their cafés and retail outlet display their freshly made desserts and sweets, while they also supply their desserts and sweets to other cafés, pastry shops and even restaurants.
While Don't Lose Your Temper put their own products on display and for sale, they also provide other services—event catering and consulting. They cater for special events such as birthdays, weddings and office parties, providing custom-made sweets to suit the event and its budget. They can offer a variety of desserts and sweets for events, including: large cakes, canapes, packaged sweets and plated desserts.
In regard to their consulting services, Don't Lose Your Temper aims to help other businesses launch food ranges and dessert menus, as well as provide advice and support on their day-to-day operations. They offer consulting services focusing on: kitchen design, menu development, recipe development, products/range development, recipe costing and equipment advice.
If you think Don't Lose Your Temper can help you and your business, you can visit their website to check out the gallery of their work, and feel free to contact Michael and Anthony, they will take care of you and your dessert and treat needs.