When Appliance Fix approached us for a new website, the team at Web Marketing Angels happily accepted. We know the stress that broken appliances can cause, and it is vital to get service fast.
Appliance Fix is a leading appliance repair company based in Melbourne's southeast that provides services all over Melbourne. Appliance Fix is an authorised agent for most appliance manufacturers in Australia. This allows them access to genuine spare parts, up to date training and technical support.
It is important that the website reflect the variety of services Appliance Fix has to offer. To do that, a brochure website clearly conveys information at a glance, which is reassuring for potential customers and clients. As with all websites designed by Web Marketing Angels, there is strong SEO throughout.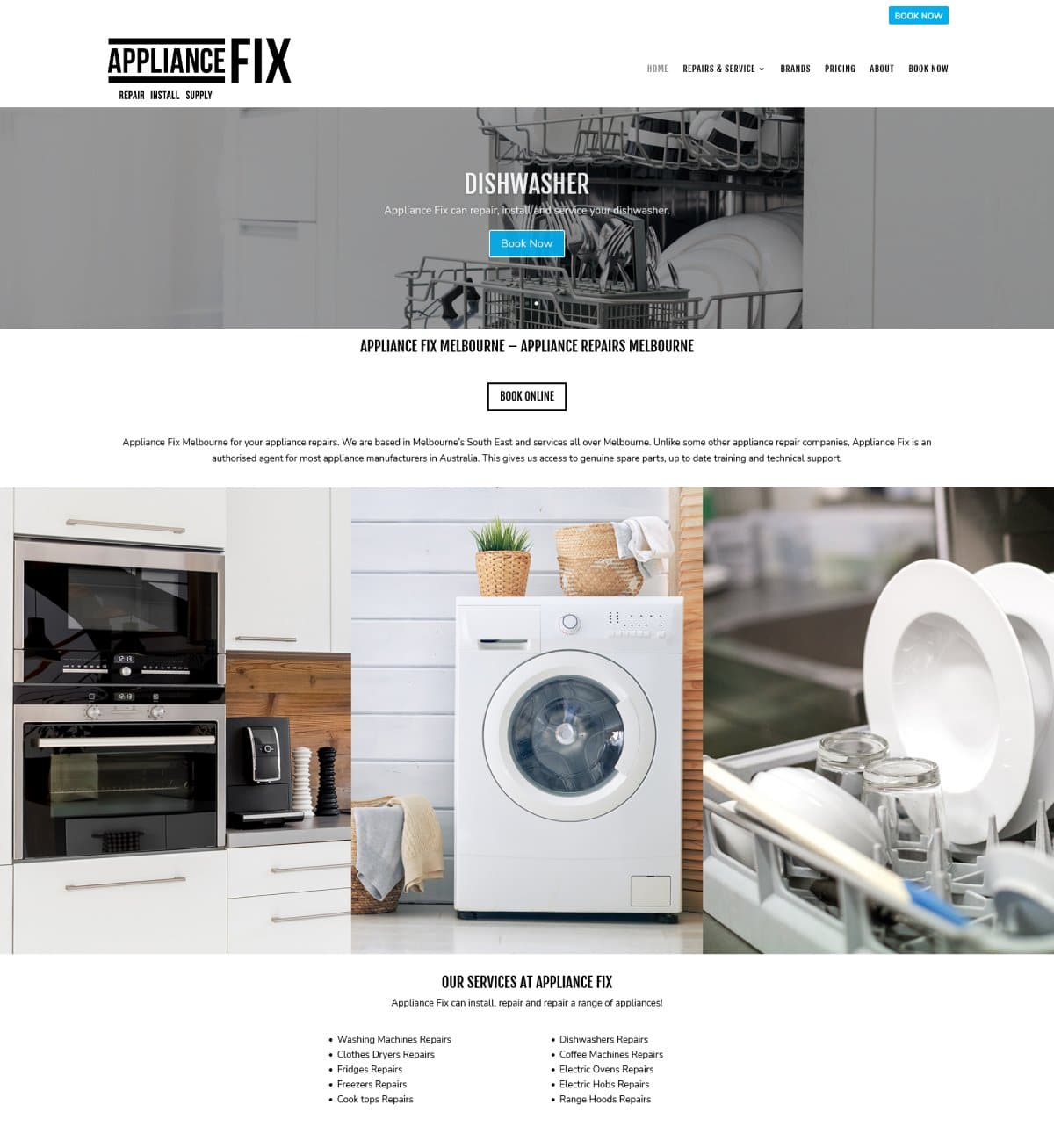 The logo is a crisp black and white with the words 'Appliance' and 'fix', the latter stands out in much larger uppercase letters. It catches the eye of a potential customer and just at a glance, they already know what the company does. 'REPAIR INSTALL SUPPLY' in uppercase letters lets the customer know they can do all three. The logos of all the brands they repair can be seen easily on the page. That's a comfort to anyone in dire need of repairs.
The entire website is streamlined and has a sophisticated and clean style. Important links are at the top right. The customer can easily choose between 'Repairs & Service', 'Brands', 'Pricing', 'About' and 'Contact Us'. 'Repairs & Service' has a menu so the customer can see the most common brands that Appliance Fix can service. The call to action is strong with 'Book Now' and 'Book Online' on the homepage and an integrated contact form. The main idea is to draw new customers and keep current customers, so they must be given many opportunities to book now.
The site has a sleek white, grey, and silver colour scheme and theme. There is a professionality across the board, and it gives customers confidence that these people know what they're doing. The team at Appliance Fix were happy with the finished website and continue working to bring appliances back to life.
For more information on website design and digital marketing, contact Web Marketing Angels today.